Andrea Vio
Luca Morassutti
Alberto Battiston
Angelo Zanin
Violine
Viola
Violine
Violoncello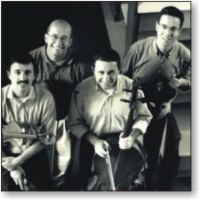 The Quartetto di Venezia was born by the encounter of four venetian musicians with a common interest in one of the highest expressions of the european music civilization. The same original formation has been active for over ten years, which has determined balance, personality and expressive force.

Their artistic training was influenced by two important schools of quartet interpretation: that of the famous Quartetto Italiano, under the guidance of Piero Farulli at the Scuola di Musica di Fiesole and at the Accademia Musicale Chigiana di Siena (where the quartetto has obtained the prestigious "Diploma d'Onore") and the central european school of the renowned Vegh Quartet through many meetings with Sandor Vegh and Paul Szabo.

The "Quartetto di Venezia" has played both in Italy and abroad (Europe, USA, Latin America, Japan, South Korea) with growing public acclaim and approval of the critics. They had the honour of playing to the Pope Giovanni Paolo II and to the President of the Italian Republic. The quartet has collaborated with Claus-Christian Schuster (Trio Altenberg), Bruno Giuranna, Piero Farulli, Paul Szabo, Borodin Quartet, Giorgio Strehler, Herbert Kefer (Quartetto Artis), Karl Leister, Alirio Diaz, Lukas Foss, Oscar Ghiglia, Martin Hornstein, Michele Campanella, Domenico Nordio, Danilo Rossi, Emanuele Segre, Leyla Gencer, Pietro de Maria, Alessandro Specchi.

This year the quartet will play in a tour in the United States of America: Los Angles - UCLA & Dacamara Society, Philadelphia, Burlington (Vermont), Seattle - Washington University, Auburn (Alabama), Eureka (California), Newtown (Connecticut). Twenty Years: The "Quartetto d'archi di Venezia" has received an official recognition from the president of the Republic of Italy Carlo Azeglio Ciampi.

They have recorded for the RAI (Italian State Television), American Radio of the New York Times (WQXR), Radio Suisse Romande, Southkorean Radio MBC, Bayerischer Rundfunk (Germany), Schweizer Radio RDS2, ORF1 (Austria). They have recorded CDs for Dynamic, Koch, Musical Heritage Society, Ermitage, Hommage, Aura, Fonit Cetra, CD Classic, UNICEF. The first violin plays a Nicolò Amati 1651 - "Il Canale" Collection - Milan.

www.quartettoarchivenezia.com

Pro Musicis, 11/2003


Für Auskünfte und Zustellung aktueller Dokumentationen stehen wir Ihnen gerne zur Verfügung.